So you're looking for a web developer? It can be tough to find the right one. Should you go with a development agency or hire a freelance web developer? And then how do I find a web developer? These can be very daunting questions that can make new businesses or existing businesses feel overwhelmed, without having any idea where to start.
Identify what you need to get done
To get started, first identify if you need a web development agency or freelancer.
If you need someone to take on the day-to-day tasks, such as maintaining and updating your website, managing eCommerce platforms like Magento, WooCommerce, and Shopify, optimizing your site for different devices such as smartphones and tablets (responsive design), handling technical issues, making design changes based on customer feedback, producing marketing material for social media, presentations, etc. then you would be better off with a web development agency.
If you are looking for someone who can work with you to come up with the idea of the website or have someone to do it all for you then hire a freelance web developer. This is not to say that agencies don't do this, but you will find it easier to work directly with a freelancer than an agency.
The answer will depend on your specific business needs and budget, but there are many pros and cons of both options that should be discussed in detail before making any decisions.
Web development agencies are typically large, well-established companies that can provide web design and development services for businesses of all sizes. These firms have the resources and a dedicated team, to provide their customers with a wide range of different web services that are not just limited to web development, they also have a web design team that offers web design services like custom web design, graphic design services, email, and newsletter designs.
Many web development agencies have a marketing team as well, which can help increase search engine optimization so you can have a better online presence, they can help you with social media marketing so that your channels are running more efficiently and SEO consulting.
Pro's working with a web development agency
More experienced developing websites in your industry
A web development company has worked with many different clients in your industry which means they're up to date on SEO practices, design trends, and best practices. They can also leverage that experience with their own staff's collective knowledge for developing your website.
Clearer deliverables and expectations are set before a web development project
When it comes to web development agency costs, there are many factors that affect the final price including the number of pages on the website and features required. Generally speaking, however, agencies will give their clients a more accurate estimate of the final cost.
A more efficient way of developing a website while not taking up your time
When you work with a web development agency, they will usually take care of all aspects of your project from start to finish including hosting and maintenance. This allows your business to focus on other areas that are important for growth while being able to trust that an experienced professional is handling website management tasks behind the scenes.
Better support to make sure you stay within budget while also aligning with your goals
When it comes to working with a web development agency, you'll have the support and guidance of an entire team. They'll help identify your business goals and work to provide solutions that align with those values while staying within your budget.
When it comes to working with a web development agency, you'll have the support and guidance of an entire team.
Con's working with an agency
Working with an agency can be expensive
The downside when working with an agency is that this usually means you'll be paying higher prices than what you would if you were working with an individual freelancer who offers fewer services. However, some agencies will offer discounted rates for certain plans or tiered pricing packages.
No direct control over the web development process
Another downside is that you don't have any direct control over the web development process. This means that you won't be able to have direct access to the web developer who is working on your site, but this isn't always a bad thing. You'll also need to make sure your agency has backups in place for when something goes wrong or if they shut down unexpectedly, which could be costly and time-consuming to rebuild everything from scratch.
Agencies usually work with clients over an extended period which means you'll need to be prepared for long-term commitments and costs that may run beyond your initial expectations.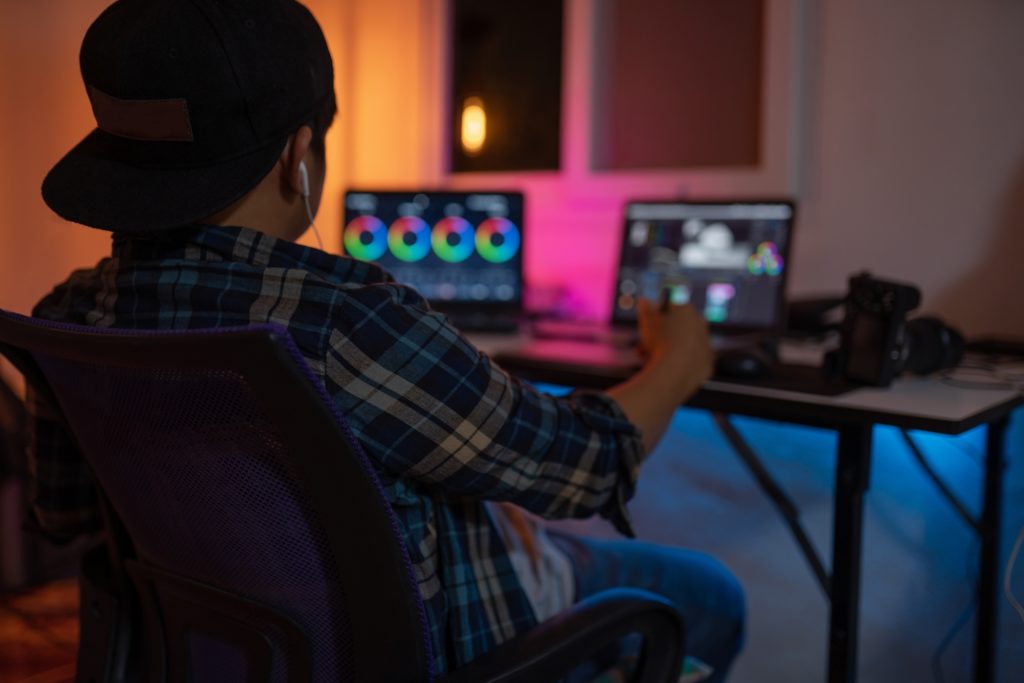 Web developers hired as freelancers are typically experienced professionals who work on an independent basis for clients that need their expertise but don't need the full range of services offered by an agency.
Pro's working with freelance web developers
Attentive to your website needs
Freelancers are often passionate about their chosen field, so they can provide a more attentive service than what you would get from a web development agency.
Can be more affordable than web dev agencies
Web developers who work as independent consultants will often offer more flexible pricing structures which can be more affordable for clients with smaller budgets.
Working with a freelance web developer can result in faster deliverables as they don't need to work through an entire company before getting things completed. They also don't have as many deadlines as a company, so they do their best to meet those obligations.
Con's working with freelance web developers
Focus may not be on your website all of the time
Because a freelancer is a one-person team. This usually means that freelancers are working with multiple clients at once which can be distracting if they aren't focused on your project, or their rates may also be higher since you have to pay for their extra time and attention.
Freelance web developers can be more expensive
Freelance web developers can be more expensive than web development agencies in some circumstances. For instance, if your website needs constant updates or is very time-consuming, this could also make working with a freelancer too costly. You'll want to look at the pros and cons of each situation to determine which is the best option for you.
A lot more involvement required
When working with a freelance web developer you'll need to do a lot of the work yourself, including communicating directly between your team of designers, content writers, and developers so they are on the same page and have what they need to complete their tasks on time.
Where do I find a web development agency in my area?
After you decided what route to take, if you end up taking the web development agency route then your next question is probably "where do I find a web development agency?".
The easiest way to find a web development agency in your local area is to look for one online. A quick Google search should give you a few results that are close, though you'll need to do some research on the company before deciding whether they're the best fit for your needs. You can also ask around via social media or through word-of-mouth if others have any recommendations of agencies they've worked with successfully.
Where do I find a freelancer?
If you want to find a freelancer, there are a number of websites that you can use. One of the most common is Upwork which is an online job site for freelancers. Freelancer.com is another popular option. Social media outlets are another great way to find freelancers, however, If you want to find a freelancer through social media, be aware of the following things:
In the end, it all depends on your budget and what you need for your website to determine if hiring an agency or freelance web developer is right for you. If you're unsure then talk with people who have had experience working with agencies or freelancers before so you can make a decision on which choice better finds your needs.